3D printing is a wonderful way to get kids excited about learning and technology.  Not only will learning how to 3d print something engage students with math and science in a new way, but it will also teach them a new 21st century tool that could be their ticket to a career in the STEM field.
3D modeling and printing can be introduced to students as young as 1st grade! The success of these projects depends on how familiar your students are with working on a computer, how strong their spatial reasoning skills are and how willing they are to struggle with a project and try to improve their work.  The projects below are geared towards students in 3rd grade or higher.  Many can be differentiated for the subject matter being covered in your class.  Reach out to the MFL team to discuss details for your students.
The Mobile Fab Lab has a multiple 3D printers and projects that will be perfect for your students! During the winter months the MFL trailer does not go out to schools, instead the MFL team goes into the schools with a 3D printer!
3d Printing Presentation      Intro Instructions
INTRO 
The introductory lesson for 3D printing includes the MFL team bringing a 3D printer into your classroom for students to see in action!   We use a free, awesome, website called Tinkercad.com for our designs. It is recommended that each teacher creates a classroom gmail account that the students can use to access tinkercad.  We also recommend that all of the students log into Tinkercad, do the tutorials and play around a bit before the MFL team arrives.
When the MFL team is in your classroom, students can work in pairs or individually (this means most classes will need 12-20 computers) to design an intro project from the possibilities below.   The time frame is an estimation and depends on how many students are in the class and their ability level.
  NAME KEYCHAIN PROJECT
This simple project can be designed in less than one hour.  Students can turn their name into a keychain, a name tag or a name stamp. More info and instructions here.
FlatBot PROJECT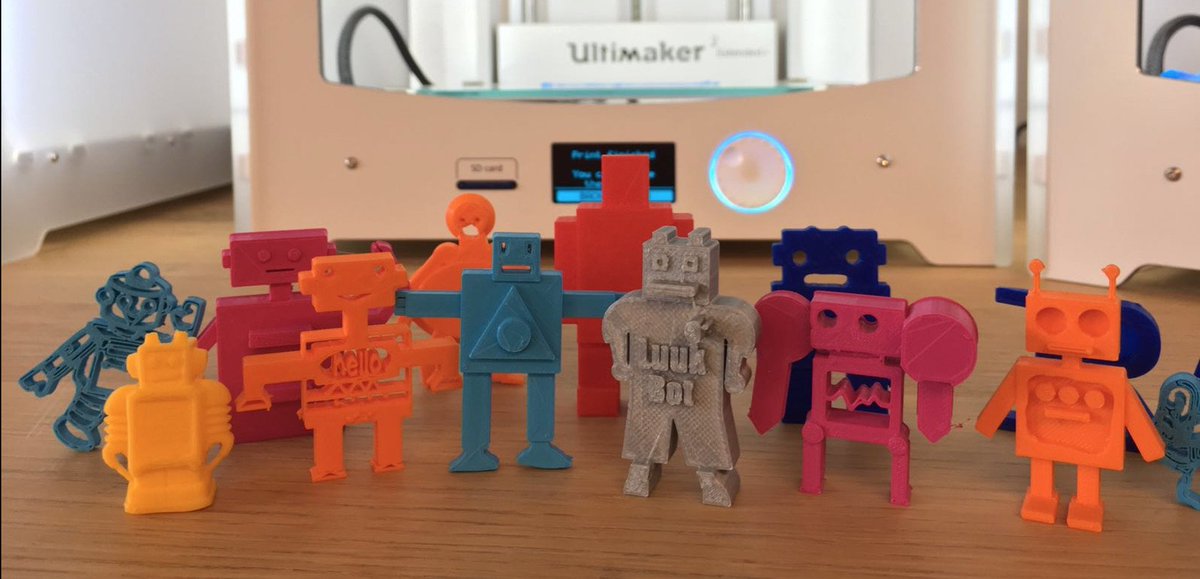 This is a great intro project for students who feel comfortable with Tinkercad.  Each kid can design  their own flatbot.  Each project requires a very small amount of pre-work to be done in the classroom.  This includes doing some possible readings about robots, monsters or dinosaurs, copying down existing designs and then doing some brainstorming and designing on their own.   Students can work individually or in partners.   This project can be done in 1-2 hours. More info and instructions here.
Intermediate Projects
These types of projects are for students and teachers who have already completed an intro level project.  These projects are similar to the intro projects in they can be completed in a relatively short amount of time and do not need a lot of iterative design.   These projects can be designed in 2-3 class periods.  Students can work in groups or individually to draw a rough draft and design their object in tinkercad in class without help from the MFL team.  Then a MFL Team member will come to your class to check on the designs and make sure they are ready for printing. If the teacher has a 3D printer, then the kids will be taught how to prep the files and use the machine, if not, the printing will take place behind the scenes by the MFL team.
Below are some ideas, but we are always open to working directly with a teacher to come up with new projects!
Citizen Trophy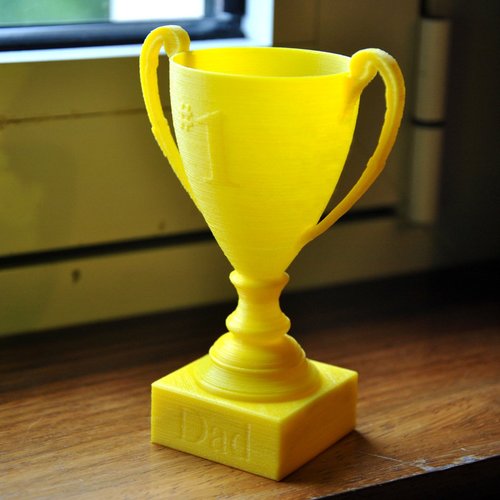 You students can decide what type of characteristics they want to reward in your classroom community. They can they design their own trophies for the top citizen or multiple types of awards for a weekly prize.
Create your own Creature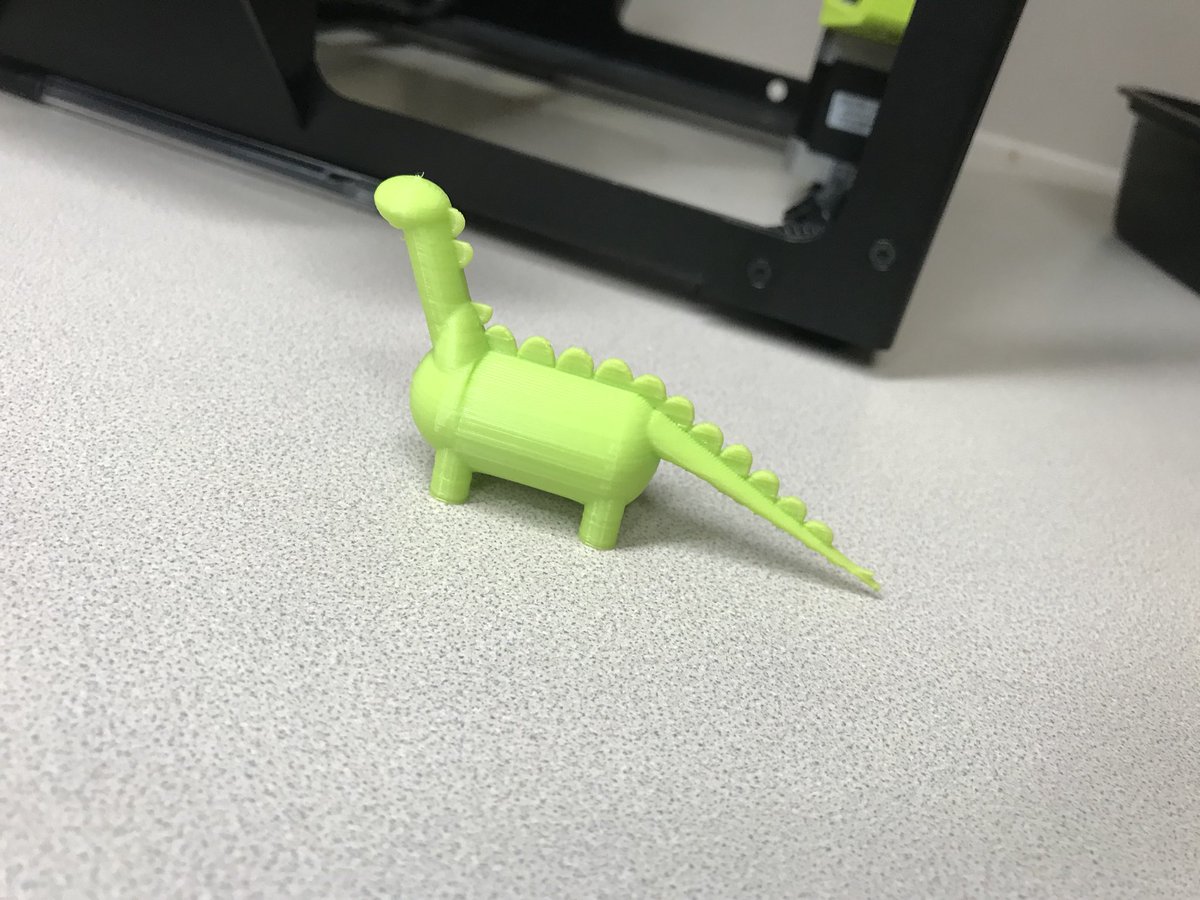 Students can create their own dinosaur or mythical creature or make adaptations to an existing animal. Great for biology and living environment units!
Design your own Cookie Cutter
Students can use a great online tool: www.cookiecaster.com to design their own cookies cutters. You can leave it open ended for your students or have the cookie cutters revolve around a subject you are studying in class.  We can print them out and then make cookies in your classroom with a toaster oven!
3D Printed CELLS!
Students will design their own plant, animal (OR ALIEN) cells in tinkercad.  They can be printed out whole in one color, or as an extension, you could have students make it more like a puzzle where the parts of the cell are the pieces that need to be put back!
Bugs!
Students can design their own insect depending on their science level. An extension could include determine the habitat their alien creature lives in, what it eats, etc.
Ancient Artifacts
After studying a culture such as the Myans or Egyptians students can create their own artifacts to be printed out, or you could challenge them to create their own culture and make up new artifacts!
Volcanic Globe
Here, students are given the globe model and have to determine where to put holes that represent areas of the earth where there is major volcanic activity. After we print out the globes we conduct the classic baking soda and vinegar experiment while plugging the hole in the top of the globe to see all the volcanoes erupt at once!
Comparing Volume
All of the objects in the photo to the right have the exact same volume.  Challenge your students to create interesting shapes with the same volume.  How does the surface area compare?
3D Design Projects
Design projects are more involved and are focused on the iterative design process.  only students and teachers who have done an intro project can complete these projects. These types of projects most often are completed in 4 phases, Phases 1 and 2 happen in the classroom with the teacher, Phase 3 and 4 happen with the MFL team.
Phase 1: The class is given a problem or challenge.  The students will need to do some research, draw sketches, present ideas, give and receive feedback before starting to design their object in Tinkercad.
Phase 2:  No-tech prototype. Students create a prototype of their object using no-tech materials including paper, tape, cardboard, Styrofoam, playdoh, etc.  An additional feedback cycle takes place.
Phase 3: Design in Tinkercad.  Students create their designs in tinkercad and present their designs to MFL team for feedback and make an edits/improvements.  A mini/low resolution version of the object is printed and students iterate (this step is not necessary for all projects).
Phase 4: Projects are printed. If there is a printer in the classroom the students will learn how to prep their projects and use the machine. If not, this will happen behind the scenes with the MFL team.
Final presentations on the object and the process the students went through to complete the work.
Below are some ideas for projects, but these are just some of our ideas.  We would love to hear what you're working on in class and try to come up with new projects!
Descriptions COMING SOON.